Top 4 Reasons To Outsource Medical Revenue Cycle Management Services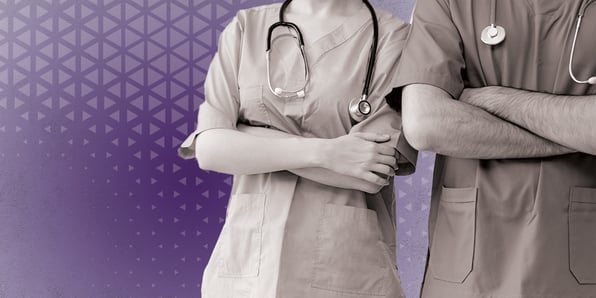 The revenue cycle is a constant focus of healthcare. Simply put, no organization can keep its doors open without revenue, cash flow, and profits. Yet practices face increasingly complex challenges to operations, including rising healthcare costs, inflation, and labor shortages.
Issues with a shortfall in clinicians and nurses in the past few years have claimed the spotlight, yet billing and RCM departments also face severe labor problems affecting workflows. In early 2023, 34% of medical groups reported having the most trouble hiring medical coders and billing experts.
With these positions left vacant, practices can expect disruptions in the revenue cycle, including higher claims denials, increased days in accounts receivable (A/R), and missed revenue opportunities. One survey showed that organizations have already seen an increase in A/R days in 2022 from staffing problems, affecting as much as 56% of practices.
Outsourcing medical revenue cycle management (RCM) services is one potential solution to these concerns. However, even if you can fully staff your practice, finding ways to reduce costs and run a lean and efficient cycle is essential. Leveraging RCM expertise via outsourcing can help you improve your process and cash flow.
Revenue Cycle Management Services
Revenue cycle management is the financial process by which your organization identifies, collects, and manages revenue from payers and patients. RCM is a vital part of operations, and an efficient cycle provides the organization with adequate cash flow and financial stability.
Medical revenue cycle management services are third-party services that help you gain efficiency and control in your cycle and remove strain on your resources or staff. These services range from technology to hands-on services that cover:
Billing and coding

Charge capture

Eligibility verification

Claims review and submissions

Collections
The goal is to reduce claim denials or rejections, optimize billing, and close collections to improve available resources in your practice. Outsourcing your medical RCM can also free you and your staff to focus on other areas of expertise or improvement.
The Benefits of Outsourcing Medical Revenue Cycle Management Services
Outsourcing revenue cycle management services for practices can offer several benefits, from cost savings and improved efficiency to access to advanced technology and time to concentrate on patients.
Cost Savings
Managing revenue is a full-time job for your in-house billing and finance department. It requires investing in training, technology, and additional staff to manage billing and collections. Not only that, medical billing is becoming increasingly complex, leading to substantial additional costs in delays, rejections, and education.
Outsourcing RCM services to billing and coding experts can lower operational costs. Recent survey data shows that healthcare organizations and practices that fully outsourced RCM saw a 24% reduction in the cost to collect with a 4% increase in the net patient revenue. Additionally, those that adopted end-to-end RCM software saw a 27% reduction in collection costs with a 6% increase in net patient revenue.
With those savings, your practice comes out ahead, even after you factor in the cost of RCM services. You can then flow those funds toward other revenue-generating activities or to profits.
Improved Efficiency
Clinicians receive substantial medical and clinical training but minimal billing and coding education during residency. Yet billing and coding are essential for regulatory compliance and stable practice.
One study shows that clinicians feel they actively participate in billing, yet 75% of respondents say they feel uncomfortable with the process. These gaps can lead to billing errors and claim denials, creating strain on your collection cycle and operations.
Outsourcing your RCM, on the other hand, can simplify your billing process. Rather than struggle through the process, you can leverage partner expertise and streamline billing, coding, and claims. The result is fewer errors and faster revenue collection, leading to a shorter revenue cycle and improved cash flow.
Access to Advanced Technology
Outsourcing RCM services gives you access to state-of-the-art software that optimizes billing processes. The best RCM software integrates with your electronic health records (EHR) system and automates billing functions. It integrates seamlessly with clearinghouses, allowing you to verify eligibility and process claims.
The clearinghouse audits and scrubs claims, helping ensure fewer rejections and higher clean submission rates. You can track claim progress, receive reports on denied claims and resubmit for appeal, and monitor invoice history and remittance advice from payers, all in one place.
Modern RCM software also often includes intuitive workflows and rule-based functions to simplify tasks. If X occurs, Y automatically happens, allowing you to reduce repetitive tasks and improve efficiency.
Outsourcing your RCM means you access advanced software that can transform and streamline your financial procedures. With flexible platforms that adapt to changing regulations, codes, and IT trends, you stay ahead of the curve without any significant downtime.
Focus on Core Competencies
The staff shortages are changing the day-to-day operations of practices and the overall healthcare industry. A recent report found that 92% of organizations are experiencing a staff shortage, including RCM or billing departments.
With such a severe shortage, clinicians face increased pressure to assume billing duties outside their usual roles. These alterations mean the daily schedule has to change. You either have less time with patients during the day to make time for billing and administration, or you and your staff work longer hours to ensure completion, risking high stress, poor morale, and burnout.
Outsourcing medical revenue cycle management services is one solution. By leveraging RCM software and white-glove services, practices can leave billing and organizational tasks to specialized providers and concentrate on patient care and core medical services.
Outsource Revenue Cycle Management Services
The revenue cycle claims substantial time and resources from every practice and organization. An efficient process and cycle are vital to long-term financial stability and success, yet many clinicians and practices need help to produce efficient results.
Outsourcing RCM services can help you reduce costs and improve your clean claims, collections, and revenue. With access to advanced technology, such as PUREDI medical billing software, you access modern workflows that reduce redundancies and streamline your cycle.
Leverage our 20 years of billing experience for smoother, profitable operations. With our technology and white-glove services, you'll get paid faster with more time to focus on your patients. Book a demo today.
Get Awesome Content Delivered Straight to Your Inbox!
Posts by topic