In the bustling heart of Stuart community in Port St. Lucie, FL, Graze Anatomy & Associates has long stood as a beacon of personalized, nurse-practitioner-led healthcare. But beneath the clinic's warm and compassionate patient care lay a web of billing complexities, impacting not only the bottom line but also the crucial patient experience. When inaccurate codes and administrative hurdles started disrupting cash flow and demanding extra resources, the clinic knew it was time for a change. Enter PUREDI, a medical billing services and software company, that promised not just to resolve these issues but to turn them into opportunities for growth. Read on to find out how this partnership transformed the clinic's billing operations, improved its financial health, and allowed the team to refocus on what they do best—providing unparalleled healthcare.
About Graze Anatomy & Associates
Graze Anatomy & Associates is a local, women-owned, nurse-practitioner-led family practice clinic that offers comprehensive care for all family members. For years, they have expanded their scope of care to suit the evolving needs of children and adults throughout the Port St. Lucie, FL region. They provide personalized, compassionate healthcare within the comfort of a warm and welcoming facility in the heart of the Stuart community.
Challenges and the Need for Change
While this high level of personalized healthcare is what sets Graze Anatomy & Associates apart from other family practice clinics, it also necessitates the use of more complex billing practices and applications with disconnected data. The personalization also requires heightened attention to customer service.
Customer service plays a pivotal role in the success of Graze Anatomy & Associates. As healthcare providers committed to delivering exceptional patient care, they understand that the patient experience extends beyond medical treatment to encompass every interaction, including the billing process. By prioritizing customer service, the clinic strives to create a positive and seamless experience for its patients, ensuring their satisfaction and loyalty.
Accurate billing is also of paramount importance as it directly impacts the clinic's financial health. Billing errors, discrepancies, or delays had resulted in revenue loss for the clinic. Inaccurate coding, missing documentation, or overlooked procedures had also led to claim denials, rejections, or underpayments.
"We were billing the wrong codes for services and nobody told us," says Jennifer Seegott, DNP, APRN-IP, AGNP-C.
Furthermore, their biller was unable to handle their charges. These issues not only disrupted cash flow but also necessitated additional administrative work and resources to rectify the errors.
To mitigate revenue loss and uphold the highest customer service standards, Graze Anatomy & Associates recognized the significance of investing in efficient billing processes and partnering with a reputable medical billing services and software company. They sought a solution that offered ease of use, effective communication, and comprehensive functionality within a unified platform.
Amid this search, PUREDI emerged as an industry leader, renowned for its expertise in medical billing services and cutting-edge software solutions. Armed with state-of-the-art technology and a deep understanding of the healthcare landscape, PUREDI offered the potential to revolutionize Graze Anatomy & Associates' billing processes and pave the way for enhanced revenue generation and streamlined operations.
"Kim got on a call with us, showed us the information. I love your customer service," says Jennifer.
Implementing PUREDI's services has heralded a new era of efficiency and financial prosperity for the clinic.
Implementation
Graze Anatomy & Associates already utilized Elation, a certified, cloud-based primary care electronic health record (EHR) technology. They learned about PUREDI through its partnership with Elation. The two systems integrate, allowing clinical practices to send claims-related data from Elation directly to PUREDI. They can submit those claims to payers through PUREDI for services rendered in Elation, reducing the need for double documentation in two softwares.
Moreover, PUREDI's team of billing experts worked closely with Graze Anatomy & Associates, offering comprehensive training and guidance to optimize their billing practices. The collaborative effort between PUREDI and the clinic's staff has resulted in significant time savings and increased operational efficiency, empowering them to provide superior patient care.
The dedicated PUREDI support team provided prompt assistance and proactive communication, swiftly addressing any concerns and ensuring a seamless billing experience for the clinic. By leveraging advanced technology, automation, expert support, and excellent communication, the clinic was able to overcome its previous issues.
Referring to their customer service experience, Dr. Laura Graze, DNP, APRN-IP, FNP, NP-C, CPNP-BC, IBCLC, M.Ed., MSN, BSN, RN, says, "We were so impressed with Kim!"
Results
Integrating PUREDI's advanced billing software with Elation has streamlined the clinic's previously convoluted billing procedures, reducing errors and expediting claims submission and reimbursement processes. Leveraging intelligent algorithms and automated workflows, the software has ensured accurate coding and documentation, resulting in faster payments and improved cash flow.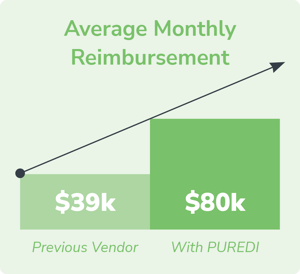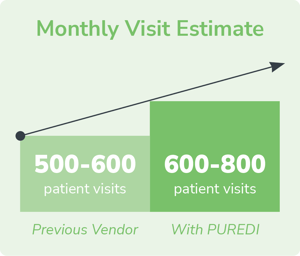 "Since being on PUREDI, we have made more money than we made in nine months with our old billing company," says Jennifer.
Billing optimization has not only enhanced the financial stability of the clinic but also freed up valuable time for staff members, allowing them to focus on patient care and the delivery of comprehensive medical services.
Continued Growth With PUREDI
The leaders at Graze Anatomy & Associates are pleased with their newly streamlined billing and revenue cycle management process. When asked if they continued to plan to use PUREDI in the future, their answer was a resounding yes. Together with PUREDI, they demonstrate the potential to continue increasing revenue and providing the exceptional customer service they are known for.