PUREDI and iTreatMD Form Strategic Partnership to Transform Medical Documentation and Billing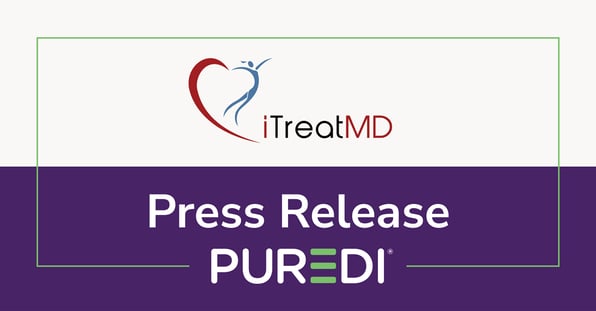 AUSTIN, Texas, Nov. 6, 2023 /PRNewswire/ -- PUREDI, a leading medical billing service and software company, today announced a strategic partnership with iTreatMD, an innovative company specializing in next-generation electronic medical records (EMR). Together, the companies offer an easy, intelligent solution from bedside through billing, setting a new standard for accurate, compliant, and correctly adjudicated claims.
By integrating PUREDI's billing services with iTreatMD's EMR technology, silos between providers and billers are eliminated, allowing documentation to be done quickly and correctly. The combined solution provides a feedback loop where billing reports are generated automatically, conforming to CMS guidelines, significantly reducing claim denials.
"In this meaningful collaboration, iTreatMD's cutting-edge technology dovetails perfectly with our expertise in medical billing, forming a partnership that promises to make a significant impact," said Cara Greer, president of PUREDI. "Together, we're more than equipped to help medical practices not just manage, but truly flourish. It's an incredible opportunity to underscore both companies' commitment to advancing healthcare practices."
Through this new integration, users will benefit from features including:
True Interoperability: Deep integration with existing facility EMR, third-party apps, and billing systems
Structured Data for Analytics: Actionable insight into patient conditions, risk assessment, and efficacy of treatments
Time

Savings: 40 percent of a clinician's note is auto-populated when seeing a patient for the first time
AI-Driven Recommendations: Guided clinical actions based on real-time analytics and predictive models
Nibha Aggarwal, founder and CEO of iTreatMD, added: "Through this exciting partnership, now clinicians can not only generate notes rapidly and accurately, but also bill and get paid rapidly. PUREDI completes our product offering by simplifying end to-end-clinician workflow even further."
Clinicians currently spend too much time transferring data between various EMR systems and manually entering billing details, which not only extends the documentation time but also increases the rate of claim denials. iTreatMD's technology substantially reduces clinicians' documentation time, improves patient care, and boosts revenue. PUREDI offers reporting and a specialized error denial engine that further eases the path to payment.
This groundbreaking partnership sets a new industry standard, offering healthcare providers a streamlined solution that aims to elevate performance, enhance patient care, and simplify billing procedures, effectively improving the way clinicians and billers collaborate.
About PUREDI
For over two decades, PUREDI has worked side-by-side with physicians, practices, and management groups to boost their bottom line. As a software and services company dedicated to ensuring the financial success of medical practices with 100% cloud-based intelligent software and expert revenue cycle management services, PUREDI understands that efficiency and ingenuity are vital in today's healthcare marketplace. The highly trained PUREDI team knows the industry inside and out, ensuring clinicians get paid quickly and accurately. To learn more, visit PUREDI.com.
About iTreatMD
iTreatMD brings together a team of technology and industry experts combined with medical practitioner insight to help healthcare organizations increase efficiencies and the quality of patient engagements. By unlocking the power of AI and machine learning technologies, iTreatMD reduces administrative tasks, generates notes rapidly and increases billable revenue. To learn more about how the software solution tackles physician burnout, visit iTreatMD.com.
SOURCE PUREDI
Get Awesome Content Delivered Straight to Your Inbox!
Posts by topic